International financing institutions aircraft, Dubai Aerospace Enterprise (Dae), will finance the procurement of eight Boeing 737-800 aircraft for the Next Generation operated for Garuda Indonesia.

Financing starts with the signing of CEO of Dae Robert J Genise and Director of Garuda Emirsyah Satar witnessed by President Susilo Bambang Yudhoyono and leaders of six other Islamic countries, at the World Islamic Economic Conference (WIEC) in Jakarta.

Robert J Genise said after signing, the Garuda plane that will be financed by Dae is the type of Next Generation Boeing 737-800 with 156 passenger capacity.The Aircraft start to come to Indonesia in June, said Robert.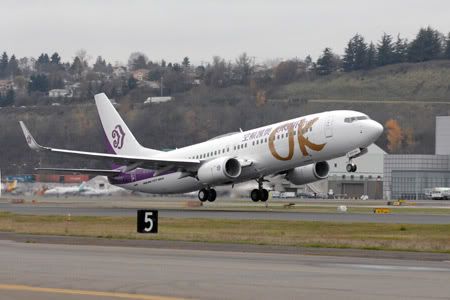 Boeing 737-800 Okay Airways Owner

How much of the funds that will digelontorkan to buy the plane, Robert said the number would not be disclosed. However, the value ranges on the 350 million U.S. dollars.

The period of financing aircraft, said Robert, for 12 years. Garuda will rent the plane in time. After the aircraft became the property of Dae and Garuda can extend the contract cost.

Separately, Emirsyah Satar, said the price of one unit of Boeing 737-800 NG is around 45 million U.S. dollars. Aircraft will be shipped in new condition from the manufacturer in the United States. Modern airplanes will be in the new condition we used. This year there are five aircraft resumed come next year, said Emirsyah.

According to him, such as lease financing pattern is conducted by Garuda to maintain airplanes modern. According to him, Boeing 737-800 NG, at this time into a modern aircraft, but 10 years may be behind the times of Garuda, so do not want to have them.
( Source : www.kompas.com )